Reaching Hand Society
History of Reaching Hand Society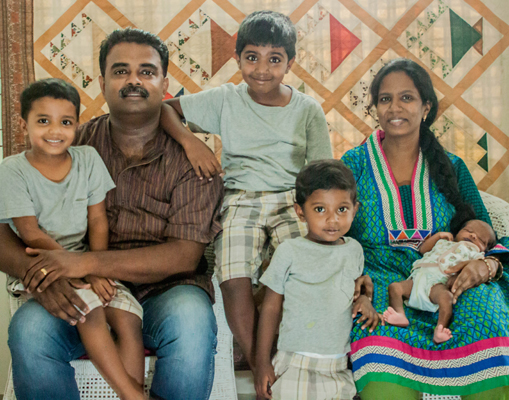 As a young girl growing up in Chennai, India, Iris Walter knew that she wanted to be a Christian missionary. After completing medical school, she was married to Dr. R.A.C. Paul. He was another Christian with a heart for missions, so Iris moved from the city to join R.A.C. in the remote villages of Orissa state to do medical and other missionary work among tribal peoples. Dr. R. A. C Paul went to be with the Lord on September 30, 1986. Dr. Iris Paul continues her multifaceted services all these 40 years. In 1987 her services were recognized by World Vision International and awarded her the "Robert Pierce International Award."
To continue the ongoing work at Malkangiri the Reaching Hand Society (RHS) was formed. Reaching Hand stands for Jesus' hand uplifting people both spiritually and physically. Now her son Ragland Remo Paul is the Executive Secretary and his wife Dr. Susan Sunalini Paul is the Medical Superintendent.
RHS has contact in over 700 villages out of 926 villages in the district of Malkangiri, Orissa. The population of Malkangiri is 420,000 and 58% of the population are tribal and 20% are Dalit or Scheduled castes, according to the 1991 census.
Medical Missions
Medical missions have remained the keystone of RHS's outreach to the local community, as tuberculosis, malaria and leprosy remain endemic to the region. Medical services are predominantly community-based. Over 700 villages in Malkangiri district have no electricity or proper road access. This does not deter the medical team of Reaching Hand Society from taking quality services to the sick and needy in the various villages. To date, RHS has built three small medical clinics in remote, isolated tribal villages.
Moreover, RHS is in the process of building St. Luke's Temple Hospital (named after the New Testament gospel writer and physician). St. Luke's is already in partial use, and when it is finished, the hospital will house a labor and delivery room, an operating theater, and dental facilities. St. Luke's will be the first modern hospital in a region of over 500,000 people. India Partners is supporting this project, and steadily turning St. Luke's Hospital from a dream into reality.
There is no dentist in the entire district. To address this, in 2000-2004 India Partners sent several volunteer dental teams. These teams performed dental procedures on thousands in dire need. The teams also trained RHS staff to perform extractions, a service that is much needed and appreciated in this isolated region.
Reaching Hand Society conducted free eye clinics in 1999 with the help of a leading Indian eye surgeon. Currently, reading glasses are assembled in eye clinics conducted by RHS staff. India Partners volunteer optical teams that visited in 2004 and 2005 trained the staff.
Between 1988 and 1990 RHS conducted free immunization programs in 80 villages. 4,800 children below the age of 12 were vaccinated. After the program, the Government of Orissa conducted a survey and found that in the 80 villages covered, whooping cough had fallen from 40% to 5%, and the incidence of polio had dropped from 10% to 0%.
First Aid
Basic first aid knowledge is unknown in this area of India. India Partners volunteer teams have trained the RHS staff, local leaders, and some tribal villages how to save lives threatened by such events as poisoning, accidents, and trauma. Basic CPR and first response skills were covered.
Veterinary Programs
Dr. R.A.C. Paul was a veterinarian, and RHS continues this branch of medical work. By hosting vet teams from Australia and the USA, both for research and practice, the effects of diseases such as tuberculosis in cattle upon the animal and human populations in the area have been examined.
Public Health Education
Reaching Hand Society regularly conducts awareness programs in the form of skits, rallies, street plays and songs. Education, health, sanitation and tribal rights are among the issues covered.
Literacy Training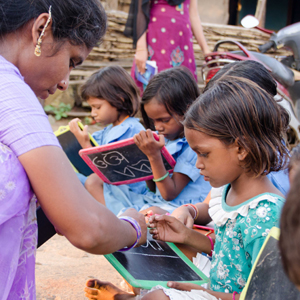 RHS has conducted one-year literacy campaigns in the surrounding villages, as many of them still do not have local schools. In the 1990s, 3,800 people in 170 villages were reached. A post-literacy survey by the state government reported that as a result of one campaign, local literacy rates have risen from 0.4% to 40%, and as a result of another, the literacy rate rose to 76%.
RHS staff continues to provide free education to remote villagers: most students are children, but adults also attend. By the time the youngsters are seven to nine years old, these village children are well-enough prepared to enter the nearest elementary school.
Water Resource Management
Dr. Paul, being the daughter of a United Nations civil engineer, has also trained tribes in water management using basic dams. Now there is a great improvement in irrigation for their fields.
In collaboration with EFICOR, Reaching Hand Society has helped provide tube wells in 540 villages. This has brought clean water to the people, which in turn has reduced the rate of water-borne diseases and has saved village women from walking long distances to streams and ponds only to fetch unsafe water for cooking.
In an effort to conserve rainwater and to increase the groundwater table, Reaching Hand Society has assisted in digging five ponds. The ponds have provided water for cattle and facilitated local gardening. Since the community was responsible for digging the ponds, they were also provided with employment during the project.
As a part of a micro-watershed program, a local check dam was constructed. This has resulted in the storage of runaway rainwater and in turn has assisted in irrigating 40 acres of land. Modern organic farming techniques have been taught, resulting in an eight-fold increase in yield, resulting in a better standard of living for the local villagers.
Empowerment of Women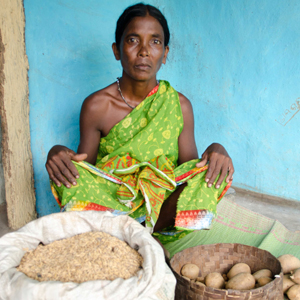 Based on the strong belief that empowerment of women in a village community is the key to a sustainable village development, Reaching Hand Society takes active measures to empower women in village communities. Savings plans have been introduced in local women's groups. This has reduced the need to borrow from moneylenders during lean periods.
Reaching Hand Society has implemented a micro-credit plan in the form of cash and/or goats. In the latter case, the plan includes "Passing the Gift," whereby the goat is passed from one woman to another when the first borrower is able to return the loaned goat. Like the savings plans, the micro-credit plan has lessened women's need to borrow from moneylenders who charge high rates of interest. Additionally, it has increased the entrepreneurial skills of the women. With their increased earning capacity and ability to conduct business, the women have been able to have a say in the direction that the development of their villages takes.
Prisoner Rehabilitation and Legal Aid
Reaching Hand Society works to rehabilitate and educate the prisoners in the local jail so that they can be profitable members of the society upon release. For over a decade RHS has been working in four districts to uplift the prisoners. Regular literacy classes are conducted for men and women in the prison every day. The women prisoners are taught to make handicrafts. Prisoners have been supplied with typewriters, sewing machines, and games. Over a thousand prisoners have learned to read and write because of this program. Sunday worship is also conducted weekly.
RHS provides legal aid for indigent prison inmates (primarily tribal people) who are not able to hire lawyers to defend their cases.
Tribal Empowerment
RHS makes strong efforts in the field of Tribal empowerment as this is the key to continued and sustainable development. Some of them have obtained government jobs. A strong sense of National Pride is created among the village people. All national holidays are celebrated in great style in all the villages where RHS works.