Orphans Faith Home
Orphans Faith Home (OFH) began in 1972 and today has helped to raise and educate more than 1,500 orphans and other needy children in Andhra Pradesh. OFH also supports local school teachers and widows, and operates three Christian schools. OFH staffs a local medical clinic, runs a tailoring school, operates an inland fishery, administers disaster relief and provides clean drinking water in poor neighborhoods.
History of Orphans Faith Home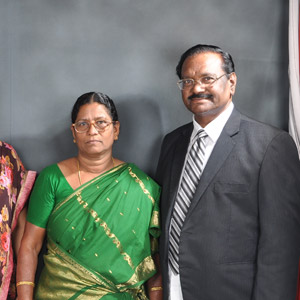 Parishudha Babu Gadelli was born in a small village in Andhra Pradesh, India. He was born into the Dalit (Untouchable) caste. At a young age he was abandoned by his parents because they had no food. He was found and given into a nurturing Christian orphanage, where he lived for 16 years, receiving food, clothes and education. Although he was a Dalit, he excelled in school.
In the 10th grade Babu decided to dedicate his life to serving God. After graduating from the Hindustan Bible Institute in Chennai (then Madras) in 1971, Pastor Babu married a young woman named Vijayasree. They moved back to Pastor Babu's home village in the state of Andhra Pradesh. In 1972, moved by the plight of two children begging on the road, Pastor Babu and his wife began taking local street children into their hut. This was the beginning of OFH.
In 1982, the couple started a small elementary school where they themselves taught the orphan children and local village children on chalkboard slates.
In 1984, a US couple, Marietta and Ernie O'Byrne, assisted in establishing a child sponsorship program at OFH. This sponsorship program eventually grew into what became India Partners in 1994. (Read about India Partners' history.) Through this sponsorship program, more people joined the work at OFH, including Brent Hample, who later became the President of India Partners.
In January 1987, Brent visited OFH and Pastor Babu in India. While in India, Brent traveled to many Dalit villages and saw the great hope brought by the work of OFH. Brent returned to the United States and spoke at churches, civic groups and schools to raise support and awareness for OFH. As support increased, more projects were adopted, including a self-sufficient fishery project.
Today, over 200 children live at OFH and call it their home.
Sponsorships
The child sponsorship program still continues and has grown to include widows and school teachers. Sponsorships provide food, shelter, medical care, clothing, education, and vocational training to impoverished women and children. They are also taught that God loves them. To become a sponsor now, or for more information, click here.
Schools
The Stephen School, started by Pastor Babu and Vijayasree in 1982, has grown to serve 200 students. Since 1982, through the support of India Partners, OFH has built and staffed the 150-student Karunamaya ("Bright Hope") School, the 100-student Hample Elementary School (named in honor of India Partners' President Brent Hample and family), and the 150-student Galilee High School. These Christian schools serve all needy children, regardless of their religion or caste.
Medical Clinic
The Dhya ("Mercy") Medical Clinic, located on the OFH campus, meets the basic health needs of local residents as well as the orphanage's children. The clinic is staffed by an OFH nurse and a visiting doctor.
Tailoring School
Ashajothi ("Bright Hope") Tailoring School gives underprivileged girls and women the opportunity to provide for themselves and their families. Hundreds of women have graduated and found gainful employment as a result of this self-sustaining project.
Rural Village Development
OFH has built community centers, schools, clinics and agriculture projects in over 15 remote, Dalit villages. The community centers are used as a school, vocational training center and a church for the local villagers.
Disaster Relief
Cyclones and monsoons periodically flood the low-lying areas around the OFH (which is located less than three miles from the sea). The tsunami of 2004 ravaged the area, leaving thousands dead and homeless. Whatever the catastrophe, OFH has responded by providing relief in the form of food, clothes, medicine, shelter and counseling.