India Abundant Ministries
India Abundant Ministries (IAM), located in Andhra Pradesh, maintains four community centers, with the goal that every center reaches out to ten local villages. IAM's goals include providing for the disabled and widows, operating multiple tailoring schools to provide vocational training, administering disaster relief and drilling clean water wells in villages.
History of India Abundant Ministries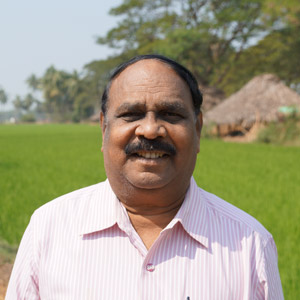 Isaac Benarjee was born and brought up in a Christian family in the state of Andhra Pradesh, India, but when he was in the 10th grade, his mother died. As Isaac describes it, "That incident caused me great pain. I began to question God." By his own admission, Isaac lived in an ungodly fashion for some years after this tragedy.
However, Isaac says that at the age of 20, the Lord led him to repent of all his sins. When he did so, he received "a great joy and peace in my heart" and desired thenceforth to serve God. Through the help of a Canadian missionary, Isaac obtained degrees in theology at Hindustan Bible Institute in Chennai (then Madras). He taught homiletics for twelve years at the Institute, and then returned to Andhra Pradesh to serve as a pastor. Later, through working as Director of the "Voice of Love" radio ministry, he became impassioned to preach to unreached people groups. Thus, in 1985, Pastor Benarjee founded India Abundant Ministries (IAM).
Providing for Widows
Widows in India, no matter their caste, are instantly viewed as inferior in both social and economic class. Women in this situation often do not have the means or ability to find employment and are forced into poverty. IAM supports widows through India Partners' sponsorship program. The funds distributed to them provide for food, shelter, medical care, clothing, education, and vocational training, as appropriate. Pastor Isaac meets with the widows each month to be certain that they are in good health and to assess if their needs have changed in any way.
Tailoring Schools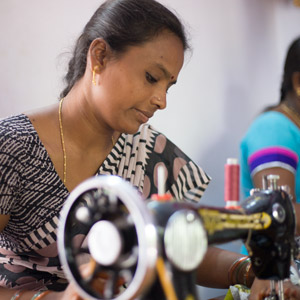 The Sheila Tailoring School trains young women from poor working families in tailoring and basic business practices. Upon completion of the rigorous six-month program, each woman is given a treadle sewing machine. In many of these families, the husbands work as day laborers. During the lean times, when their husbands cannot find work, the wife's income is the difference between food on the table and going hungery. IAM follows up with the graduates as they launch their careers. The school can accommodate about 15 women at a time and, since its launch in 2003, over 100 women have successfully completed the program and gone to work. Since then, two more tailoring school were started to provide training for young women in two other poor villages. Between the three schools, at least 72 women are equipped each year to start their own businesses and provide for themselves and their families.

Disaster Relief
Flooding is a concern in the coastal areas around IAM. In times of floods, IAM distributes rice, dahl, cooking oil and additional food supplies, sheets or blankets for protection from the elements and delivers supplies to those who have become instantly homeless due to high waters.
Village Water Wells
IAM identifies needy areas, colonies, and villages where people are very badly in need of water wells. Many poor women must go two kilometers to get their water, often from muddy rivers. Many suffer from water borne diseases due to lack of access to fresh, clean water. Through IAM's water wells program, 92 villages, over 73,000 people, now have wells that provide nearby access to clean water.