Agape Rehabilitation Center
In 1995, Daniel and Avitha founded the ministry of Agape Rehabilitation Center (ARC). Agape means "God's love," and they wanted to share the love of Jesus in action. Agape's goal is to help persons with disability to gain economic independence through computer training.
In the past 20 years, Agape has served over 1,500 persons with disabilities in various ways, mainly providing computer training free of charge and without regard to caste, religion, gender or creed. Agape's training includes specialized courses for persons with all kinds of physical handicaps, including those in wheelchairs, with leg and hand deformities, those afflicted with cerebral palsy (spasticity), dwarfism, as well as the deaf and blind (through the use of speech synthesizer software). Agape also distributes freely wheelchairs or tricycles to those who need them. For those registrants who are not residents of the city of Chennai, Agape also runs a temporary boarding hostel with a capacity of 12 students, whose stay range from one week to 18 months.
Agape's computer training program is accredited by the State government. Agape was given the prestigious "Tamil Nadu State Award for Best Institution for the Disabled" in the year 2005, which is a high honor to the center and a boon to its graduates.
Founders' Bios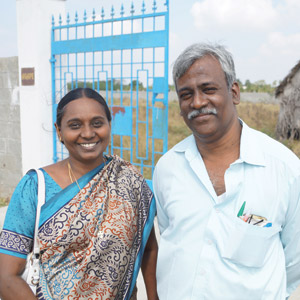 Daniel Victor was born into a loving Christian home and accepted Jesus as his personal Savior at the age of ten. Undergoing open-heart surgery as a teenager, he learned early in life to lean on the Lord's strength. In December 1983, he attended a missions conference of the Union of Evangelical Students of India, where he dedicated himself to involvement in missions. After college and graduate studies in mathematics and computer science, Daniel worked at a computer center, teaching persons with disabilities in 1987. Daniel received further education in rehabilitation training in Japan.
Avitha Daniel, like her husband, was born into a Christian family. After obtaining a B.S. in mathematics, she took additional courses in computer training. In 1989, she accepted Jesus as her Savior. She writes, "I waited on the Lord to use me to help either persons with disabilities (I had a few disabled friends and realized the difficulties they faced) or orphan children." God answered Avitha's prayers by opening a position for her at a local training center for the disabled. There she taught computer skills to persons with disabilities and met Daniel. They were married in 1991 and have two children.
Able Computers
After students complete either Agape's one-year diploma course or one of its short-term advanced courses, Agape provides job placements and social integration services through one of its units called Able Computers. The ministry of Able Computers allows the person with disability to become truly and fully integrated into society with a sense of self-worth.
Jesus Enables Ministries (JEMs)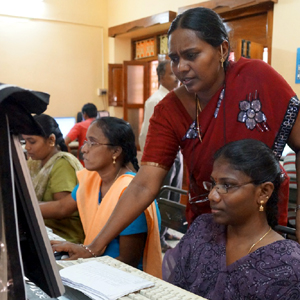 JEMs is a registered independent ministry exclusively for persons with disabilities. "Reaching persons with disabilities with the Gospel of our Lord and Savior Jesus Christ, for salvation and discipleship." This ministry reaches out to persons with disabilities, (including the blind and deaf). There are many activities in this ministry, suitably modified, taking into consideration of the special needs of the group. We reach out in various ways to this neglected group, through fellowship days, house-visiting, accompanying to Church, newsletter(JEMs light) and Bible Quiz(can also be answered in Braille). Get-to-know Jesus Camp (with signing for the deaf), Get-to follow Jesus Retreat, Library and mentoring are some ways in which we share our faith. Bringing the love of Jesus into the lives of those without hope.
Many persons with disabilities have accepted Jesus as their personal Savior and live with the joy of salvation and the hope of eternal life, where there will not be any disability. Daniel & Avitha's prayer and hope is that every person with disability they come in contact will find new life in Christ.
Bigger and Better Things
Thanks to generous donors, Agape purchased an acre land where they plan to build a new rehabilitation and training center, complete with classrooms and a living space for up to 75 disabled students.
With the help of generous India Partners donors, enough funds were raised for the compound wall and it has been built.
Construction on the new center can begin once the permits have been obtained. Daniel and Avitha are excited that Agape will be one step closer to serving more persons with disabilities.